Forrester Report
An IT Spotlight on Better Expense, Travel, and Invoice Management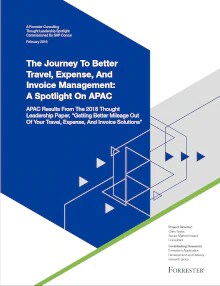 Forrester Report: An IT Spotlight on Better Expense, Travel, and Invoice Management LP1
Modernizing expense, travel, and invoice systems by going digital is a quick win for IT leaders as those improvements can make a real difference for all employees by driving efficiency. The benefits for IT teams include higher satisfaction from end users, hence less troubleshooting; more automated expense and invoice management processes, which reduce burden on IT leaders; and better visibility and reporting for finance departments.


Resource Center: Premium Asset Access
Thank you for giving us a few moments to prepare your quick access to all our Resource Center Premium Assets for future downloads.
Download link is ready
Let's explore all solutions from SAP Concur today:

Concur Travel
Simplify the travel experience, increase compliance, and control your company's costs — all in one place.
Explore Concur Travel
Concur Expense
Integrating all of your expense data means you can manage your company's spend anywhere, anytime.
Explore Concur Expense
Concur Invoice
From purchase requests to invoicing to payments. Save time and money when you automate your AP process.
Explore Concur Invoice