Global Business Travel Tax & Immigration
Mitigating Complexity and Risk Amid Brexit, Travel Bans and Trade Wars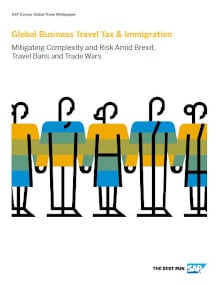 Global Business Travel Tax & Immigration
There are a number of shifts — economically, politically, socially — happening in the world today that make cross-border business travel more complicated than ever. While businesses are becoming more global, governments are becoming more concerned with protecting their borders, jobs, and the financial interests of their local population…creating friction with business travel.
Download the whitepaper now to learn more on how to mitigate complexity and risks amid Brexit, travel bans, and trade wars.
Download the report
SAP Concur respects your privacy
SAP Concur respects your privacy. The information you provide us is intended for internal use only, and we will not share, sell, or distribute your information. View our privacy policy. You will receive educational information and news about SAP Concur products and services.

Gain access to all premium content once you fill out the form.
Thanks for downloading!
The document will automatically download to your computer. If you are having problems downloading, click the link below.
Download report
What Your Business Needs. What Your Travelers Want. All In One Place.
Reimagine business travel with SAP Concur solutions. Meet your business travelers' needs where they are with an intuitive, app-guided experience while also connecting and integrating travel data in one place. Reach new levels of travel convenience and achieve greater spend visibility and compliance across your organization.
What your business needs. What your travelers want. All in one place.
Bring every aspect of business travel management together – capture more data while you cut costs, reduce risks, and connect travelers to top brands and popular apps.