Partners in Intelligent Growth
How Finance and Technology Leaders Can Take the Lead in Business Growth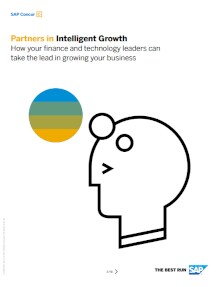 How Finance and Technology Leaders Can Take the Lead in Business Growth
No CEO or business owner has ever been satisfied with the status quo. Whether they run a scrappy startup or worldwide enterprise, these company leaders come to work every day with one thing on their mind: growth. Growth in business isn't so much a goal as it is an assumption; the only question is how to achieve it.
While yesterday's businesses used to drive growth through product, sales, or productivity improvements, today's companies now focus on mergers and acquisitions, IT-driven digital transformation initiatives, and workforce capability improvements to achieve their growth goals. As a result, today's company leaders are looking to their finance and IT teams to step up and take greater responsibility for how the company scales.
Download the paper to learn how finance and IT leaders can collaborate to provide data, analytics, and insights and help organizations operate more intelligently and effectively.
Download the report
SAP Concur respects your privacy
SAP Concur respects your privacy. The information you provide us is intended for internal use only, and we will not share, sell, or distribute your information. View our privacy policy. You will receive educational information and news about SAP Concur products and services.

Gain access to all premium content once you fill out the form.
Thanks for downloading!
The document will automatically download to your computer. If you are having problems downloading, click the link below.
Download report
SAP Concur Solutions:
Ready for business growth and scale
SAP Concur's integrated spend management solutions caters to businesses who are growing regionally and globally. Unify your company travel on a single integrated solution that will manage business expenses, travels and invoice. Discover a solution that is ready to support your ever growing volume of spend and reimbursements as you expand into more operational markets and business acquisitions.
Trusted by more than 48,000 companies worldwide.