There must be a better way. This thought launched SAP Concur nearly 25 years ago and spurs our innovation today.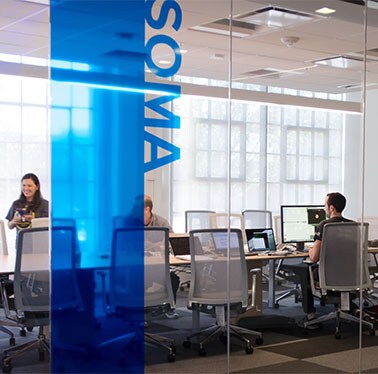 It began with the realization that there must be a better way to manage business expenses.
A better way than employees stuffing paper receipts into an envelope and manually entering each expense onto a spreadsheet. A better way than Finance transferring expense data to accounting systems by hand. By automating the expense management process, SAP Concur would make expense reporting a whole lot easier for employees and get them reimbursed faster. At the same time, we would help companies save time and money.
But more could be done for business. What if companies could "see" expenses even before they happen? SAP Concur connected travel and expense, allowing organizations to get a new level of visibility into spending – before, during and after the trip was completed.
We weren't finished. With the rise of mobile devices and apps, customers wanted the same simple and powerful experiences they enjoy as consumers. For instance, what if travelers could expense a latte through their smartphone app, discarding the receipt? What if travel managers could receive a single itinerary for all of a traveler's bookings, no matter how they were booked? What if expense reports could write themselves as a trip unfolds? What if the same effortless experience could extend to invoice processing, too?
We've continued to innovate to improve the experiences of business travelers, travel managers and finance leaders.
Today, SAP Concur is the world's leading provider of integrated travel and expense management services and solutions. On the web, on a smartphone or on a tablet, our cloud-based solutions deliver an effortless experience for employees and total transparency into spending, helping organizations of all sizes, industries and locations run better. We can help yours run better, too.
Jennifer Morgan
President,
SAP Cloud Business Group
As the leader of SAP's Cloud Business Group, Jennifer Morgan has end-to-end responsibility for the company's cloud lines of business, including SAP Ariba, SAP Concur, SAP Fieldglass, SAP SuccessFactors, SAP C4/HANA, SAP Customer Experience, and Qualtrics. Jennifer is spearheading the company's rapid and aggressive shift to the cloud as her portfolio includes revenue, product development, research, engineering, operations, and sales and marketing across SAP's cloud businesses. In 2018, SAP cloud revenue surpassed license revenue for the first time in the company's nearly five-decade history. Jennifer became the first American woman ever appointed to the SAP Executive Board when she was named President of the Americas and Asia in 2017. In this role, she was responsible for SAP's revenue, strategy, and customer success in North America, Latin America, and Asia Pacific Japan, regions encompassing more than 43,000 employees and nearly 230,000 customers. Read more.
Mike Eberhard
President,
SAP Intelligent Spend Group
Mr. Eberhard joined SAP Concur in 2003 and was named President of the company in November 2016. In his role, Mr. Eberhard is responsible for setting the vision and executing against the operating plan for SAP Concur. Mr. Eberhard has more than 25 years of global sales and executive management experience in high-tech and has been instrumental in developing the vision for SAP Concur in business travel since 2006. His previous roles at SAP Concur include President of Global Distribution, in which he oversaw more than 1,800 sales and marketing professionals; EVP and General Manager, Global Accounts; EVP and General Manager, Asia Pacific; and EVP, Worldwide Sales & Business Development. Prior to SAP Concur, Mr. Eberhard was VP, Worldwide Sales at Xign; VP and General Manager for Ariba; and VP and General Manager, Education & Government at PeopleSoft.
Jim Lucier
President, SAP Concur
Jim Lucier was appointed as incoming president in April of 2019 and will assume the role of president in July. Lucier joined SAP Concur in 2008 as Vice President for Business Development. In 2011, he was promoted to General Manager of the Federal Government Business Unit, where he led the successful bid to secure a contract with the U.S. Government. Lucier became SAP Concur's Chief Services Officer in 2016, overseeing the Services, Support and CX teams who ensure best-in-class experiences for over 48,000 commercial and government customers around the world. He added the responsibilities of Chief Revenue Officer in 2017, leading Global Business Development, Enterprise sales for U.S., Canada and LAC, Global SMB sales, and Global Sales Operations. Jim's previous industry experience included senior leadership positions at JPMorgan Chase and Xign.