Four Keys to Maximizing
the Strategic Business Value of Travel Programs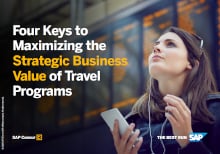 Four Keys to Maximizing the Strategic Business Value of Travel Programs
Corporate Travel: Business Investment or Cost?
Corporate travel is often viewed as just a cost of doing business that enables people to get from point A to point B.
But it plays a vital function that has direct or indirect impact on critical parts of organizations today. Depending on your industry, it keeps your company moving; the sales pipeline flowing; your experts informed and certified; and your people in front of customers, patients, and partners. At the same time travel brings teams together, strengthening collaboration and innovation inside and outside your organization.
Managing travel isn't easy - and keeps getting harder. Download the eBook to learn more on how to maximize the strategic business value of your travel program.
Download the report
SAP Concur respects your privacy
SAP Concur respects your privacy. The information you provide us is intended for internal use only, and we will not share, sell, or distribute your information. View our privacy policy. You will receive educational information and news about SAP Concur products and services.

Gain access to all premium content once you fill out the form.
Thanks for downloading!
The document will automatically download to your computer. If you are having problems downloading, click the link below.
Download report
What Your Business Needs. What Your Travelers Want. All In One Place.
Reimagine business travel with SAP Concur solutions. Meet your business travelers' needs where they are with an intuitive, app-guided experience while also connecting and integrating travel data in one place. Reach new levels of travel convenience and achieve greater spend visibility and compliance across your organization.
What your business needs. What your travelers want. All in one place.
Bring every aspect of business travel management together – capture more data while you cut costs, reduce risks, and connect travelers to top brands and popular apps.