The Impact of Accounts Payable Automation on Organisational Performance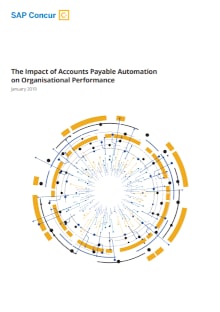 The Impact of Accounts Payable Automation on Organisational Performance
Digital trends have impacted almost every aspect of today's business world, from operational performance to customer service satisfaction. The payments department – the cash flow and working capital lifeline for an organisation – is no exception. Yet in Singapore and Malaysia, many organisations still have limited automation of the accounts payable (AP) process, or a heavy reliance on manual paper work. This report analyses the current AP landscape in Singapore and Malaysia, through surveys and interviews of 100 organisations in each country, across various industries.
Download this whitepaper to learn more about the positive impacts of AP Automation.
Download the report
SAP Concur respects your privacy
SAP Concur respects your privacy. The information you provide us is intended for internal use only, and we will not share, sell, or distribute your information. View our privacy policy. You will receive educational information and news about SAP Concur products and services.

Gain access to all premium content once you fill out the form.
Thanks for downloading!
The document will automatically download to your computer. If you are having problems downloading, click the link below.
Download report
Trusted by more than 48,000 companies worldwide.